Our modern world has not known a pandemic of this scale. So, it is impossible to present data that shows how effectively this particular situation can be addressed through Sadhguru's practices. We can, however, look to situations where people have similar stress factors, and see how Yoga has impacted them. Please find below some examples. 
No job carries with it quite the same level of danger as that of a soldier, facing the constant threat of danger and potential death. The Indian Border Security Forces are often in geographically isolated conditions and very hostile climates (such as Siachen Base Camp, where the temperature goes down to -50 degrees C during winters). Soldiers are separated from their families for long periods of time. These challenging conditions were reportedly causing soldier suicides. [1]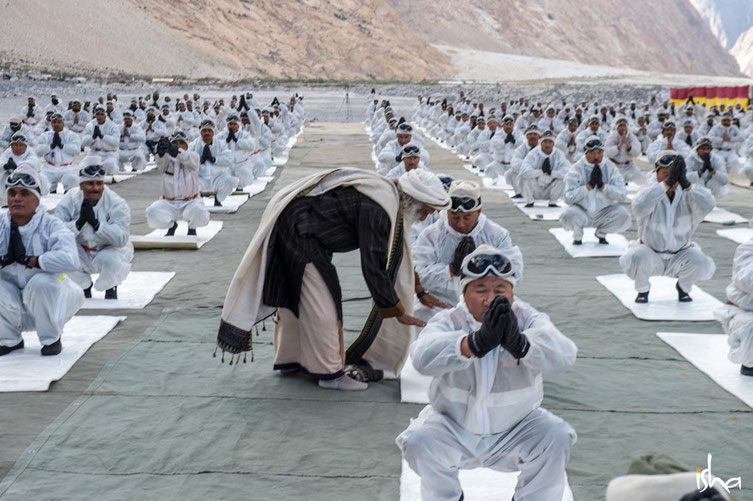 On the occasion of the International Day of Yoga 2018, Sadhguru taught Yoga to the soldiers in Siachen. Later that year, over 100 BSF officers and jawans took a 14 day yoga programme at the Isha Yoga Centre, in India. 
Shri KK Sharma IPS, Director General, BSF, explains the impact of the programme:
"After learning Yoga from Isha Foundation, my jawans [soldiers] have acquired better stamina, more willpower and their attitude towards life has become positive and they are in a position to face the stresses of day to day life in a better manner." [2]
Isha Yoga practices have also been taught to personnel from the Central Reserve Police Force (CRPF) and Central Industrial Security Force (CISF), with very positive findings. [3] 
A study was conducted through Beth Israel Deaconess Medical Center (BIDMC) and Harvard Medical School (HMC) using a guided meditation called Isha Kriya.
More than 300 anesthesiologists, surgeons, residents, attending physicians, and nurses participated in a survey that measures stress. This survey clearly illustrated that majority experience moderate levels of stress. Within the same group, total mood disturbances were found to be significantly reduced after practicing the Isha Kriya guided meditation just once.
Negative disturbances such as tension, anger, fatigue, confusion, and depression were significantly reduced after the meditation with anger being the most significantly reduced. Similar results were also observed in a group of 44 anesthesiologists attending the American Society of Anesthesiology (ASA) conference.
This suggests that Isha Kriya can improve mood regulation and the ability to deal stress and burnout, which may in turn improve workplace well-being, patient safety, and quality of care. They concluded that the practice of Isha Kriya guided meditation as part of a daily routine to improve well-being among operating room professionals needs to be considered. [4]
"After my Inner Engineering program 6 years ago, I feel the internal calmness in me that helps me focus on what I need to do in urgent situations, in the high- stress, demanding environment I work in. At the end of the day, I still have the energy to carry on till late evening/night."
Bala Subramaniam, MD, Anesthesiologist, Harvard Medical School
"Inner Engineering has made a significant difference in my life. The tools I learned in the program have helped me to remain calm during stressful situations, I'm much clearer when it comes to decision making and I feel more connected and in tune with my patients. Although my productivity has gone up, things happen with much more ease and less friction."
Victoria Flores-Carlson, CRNA, TeamHealth Anesthesia
Opthalmologist Raj Maturi reports the following improvements after doing Inner Engineering:
More ease, higher level of happiness especially at the end of a long working day, improved efficiency, lower stress level, more pleasant home life, came out of cholesterol problems
Study co-authored by Geethakrishnan Gopalakrishna Pillai, who currently represents the Indian Ministry of AYUSH (Ayurveda, Yoga, Unani, Siddha and Homoeopathy) at the World Health Organization, Geneva.
A study of 458 patients undergoing major thoracic surgery between June 2013 and December 2015 in India showed that adding integrative medicine (yoga and Ayurveda) to the other treatments gave:
Significantly increased pulmonary function
Reduced pain
Quicker mobilization leading to early discharge [5]
The yoga practices taught to patients were simple practices, not dissimilar to Upa Yoga.   
---
1] https://www.youtube.com/watch?v=RmgHwZ_xzGg
2] https://youtu.be/IoMOTglWp7U
3] https://isha.sadhguru.org/in/en/blog/article/indian-paramilitary-goes-through-the-ultimate-fitness-regime
4] Rangasamy V, Thampi Susheela A, Mueller A et al. The effect of a one-time 15-minute guided meditation (Isha Kriya) on stress and mood disturbances among operating room professionals: a prospective interventional pilot study [version 1; peer review: awaiting peer review]. F1000Research 2019, 8:335 (https://doi.org/10.12688/f1000research.18446.1)
5] Citation: Khan AZ, Pillai GG. From 200 BC to 2015 AD: an integration of robotic surgery and Ayurveda/ Yoga. J Thorac Dis 2016;8(Suppl 1):S84-S92. doi: 10.3978/ j.issn.2072-1439.2016.01.74 
Full article: https://www.researchgate.net/publication/295011070_From_200_BC_to_2015_AD_An_integration_of_robotic_surgery_and_AyurvedaYoga