How one encounter changed my life
---
Just recalling a very special day in my life. In April 2012, Sadhguru spoke at the Institute for Management Development (IMD), Lausanne, Switzerland.
It was at the end of the day, after all the guests had left, and the volunteers were ready to go, too, that Sadhguru walked over to me, spoke to me, and took my hands in his.
I remembered him saying that his own guru had never even touched him - he had used his staff to touch his forehead. I couldn't work out why Sadhguru decided to come over to me, let alone to hold my hands like that. I felt - and still feel - completely unworthy.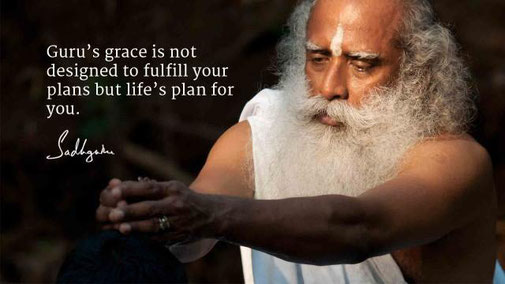 ---
It was that moment that dissolved all my doubts about what I wanted to do with my life. I applied to the Isha Hatha School of Yoga to become an Isha Hatha Yoga Teacher, and decided to dedicate myself to making his teachings available to as many as possible.
I had very little time to make the arrangements to be away for 6 months, but somehow everything fell into place incredibly smoothly, like life was helping me to make it to the ashram. 
The 21 week teacher training is a process of self-transformation at a very deep level, as a basis for offering those same life-changing techniques to others. Halfway through, I felt like I was being
completely destroyed! Later I came to appreciate that there's only room for something new and wonderful if some of the trash is taken out. Destruction is a prerequisite for – or prelude to - creation. 
What a phenomenal journey it's been! Constantly striving to be worthy of his grace, which he anyway bestows without judgement or distinction. He always says he's available to all who are willing. 
I want to reach out to as many as possible, to connect as many people as possible to Sadhguru, so that their lives can be filled with grace, joy and an intensity of experience nothing else in life can match!